The Huckleberry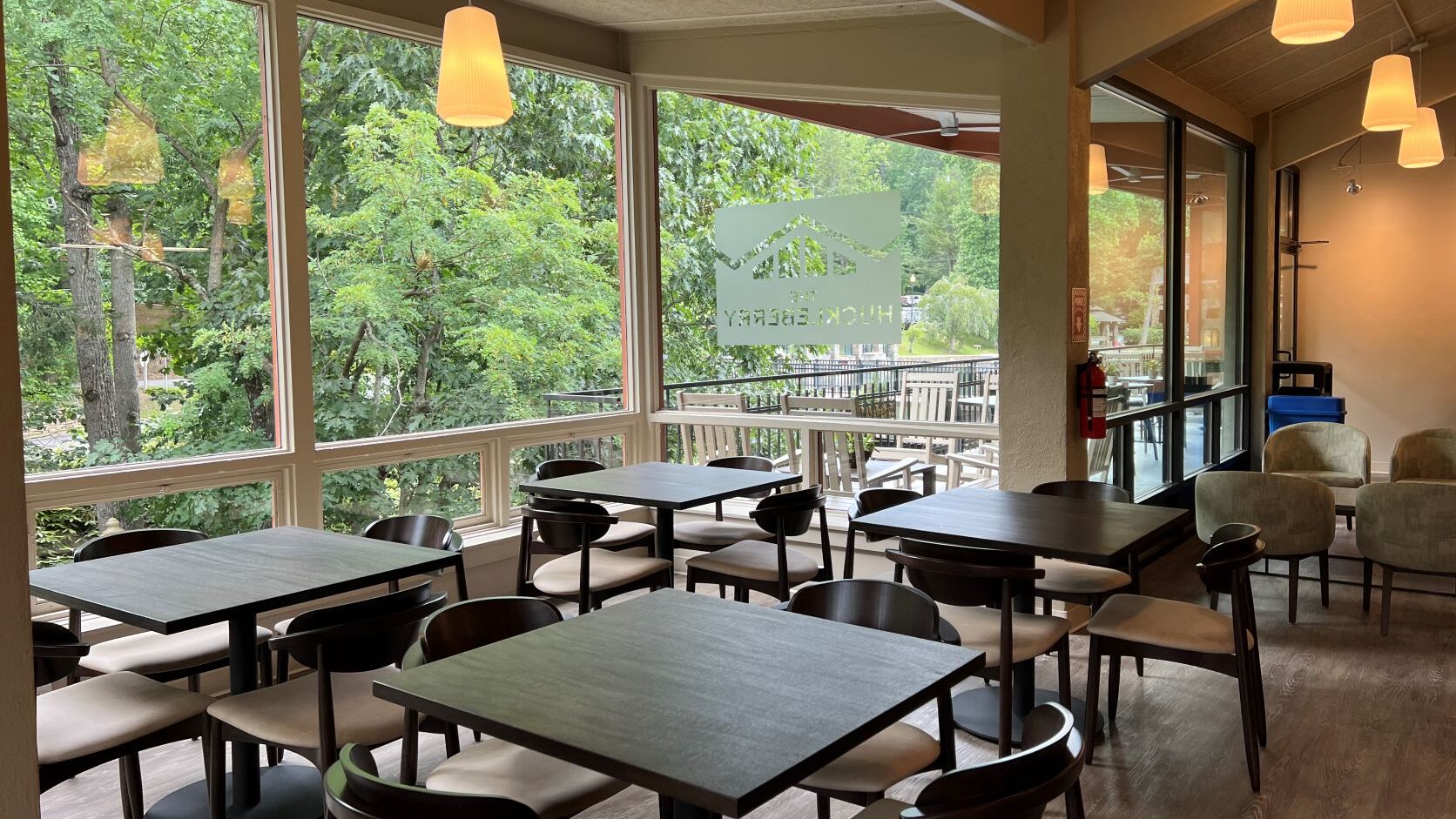 The Huckleberry Hours (fall/winter/spring)*
Year-round Hours
Tuesday–Thursday
8:00 am–3:00 pm
Friday–Saturday
8:00 am–6:00 pm
Sunday–Monday
closed
Meal times are subject to change. Call the front desk of Assembly Inn at 828.419.9844 to confirm.
The newly renovated Huckleberry is open!
Thanks to generous donors, and efforts of staff and partners, the top floor of the Moore Center has been completely renovated to offer a state-of-the-art dining facility for Montreat visitors. Be sure to check out added windows, an additional restroom, and new furniture within the space!
In addition to a fully renovated interior, The Huckleberry menu has also been reworked and will include Dynamite Coffee, ice cream, burgers, the Tennessee Twister, and more!
General questions about the Huck can be directed to the Front Desk of Assembly Inn at frontdesk@montreat.org or 828.419.9844.
A note about tips
All tips received by Montreat employees are pooled in the Employee Assistance Program. The EAP supports Montreat staff through medical needs, personal needs, and times of transition. To make a gift, click the button below or donate cash at the register. Gifts can also be left at the Front Desk of Assembly Inn. For more information, contact development@montreat.org. Thank you for your gifts!
The Galax Dining Room
The Galax Dining Room in Assembly Inn prepares fresh, delicious meals, using quality ingredients. Throughout the year we work hard to source our produce locally. We use local honey, stone ground grits and cornmeal from Rutherford County, specialty desserts from Charlotte, and North Carolina pork products. The meats we serve are all natural, free of antibiotics, gluten, and MSG. Our seafood is wild caught and domestic, and our salads are homemade and fresh cut; no bagged products are used. All meals are served buffet-style in the large dining room, and there are additional seating options in the tea garden or on Wharton Porch.
Galax Dining Room Meal Times & Pricing
Galax Dining Room Hours*
| | |
| --- | --- |
| Breakfast | 7:30–8:30 am |
| Lunch | 12:00–1:00 pm |
| Dinner | 5:30–6:30 pm |
*Meal times are subject to change. Call the front desk of Assembly Inn at 828.419.9844 to confirm.
Galax Dining Room Prices
Meal
Adult (12+)
Child (5-11)
Breakfast
$10.00
$5.00
Lunch
$11.00
$6.00
Dinner
$14.00
$7.00
Summer Sunday Lunch
(June-Aug)
$15.00
Includes tax
$7.50
Includes tax
Southern Sunday Lunch
(Sept-May)
$13.00
$6.50
All meal rates, with the exception of Summer Sunday Lunch, are subject to NC state sales tax. Children under 5 eat free in the Galax Dining Room!
Walk-in reservations are accepted at the discretion of the Food Services Director and are not guaranteed, but are welcome if the Dining Room is open!
Summer Sunday Lunch is open to the public from 11:45-1:30 during the summer months and following the Summer Worship Series in Anderson Auditorium.
Meals for Groups
Montreat Conference Center is happy to offer groups the flexibility to decide which meals to include in their meal package. To ensure a quality dining experience, please have your group reserve meals two weeks in advance, four weeks if dietary restrictions or custom menus apply. Picnic-style boxed lunches and customized menus are available upon request. To talk about your group's food needs, contact our group sales coordinator at retreats@montreat.org. If you or your group is interested in reserving the entire space for an event, check out our Meeting Spaces page.
Menu Items and Dietary Guidelines
The Galax Dining Room offers a variety of buffet items for each meal. Every day is different and delicious!
Standard breakfast fare includes eggs, biscuits, breakfast meat, and a hot cereal as well as a selection of cold cereals, pastry items, yogurt and fruit. Assorted hot teas, regular & decaf coffee, and assorted juices accompany every breakfast.
Lunch & dinner buffet options include meats, vegetables, starches, homemade soups, and a full salad bar (fresh veggies, lettuces, hummus, prepared salads, desserts, etc). Beverage selection includes iced tea, water, milk, regular and decaf coffee.
We use no meat items in the preparation of our vegetables & starches. All soups (unless noted) are vegetarian and our meats (unless breaded) are all natural & gluten free. Canola oil is used for frying and sautéing, and dairy-free margarine is used in our side dish preparations. Oat milk is also offered with each meal.
If you have questions about meals being offered on a specific date, contact the front desk of Assembly Inn at 828.419.9844.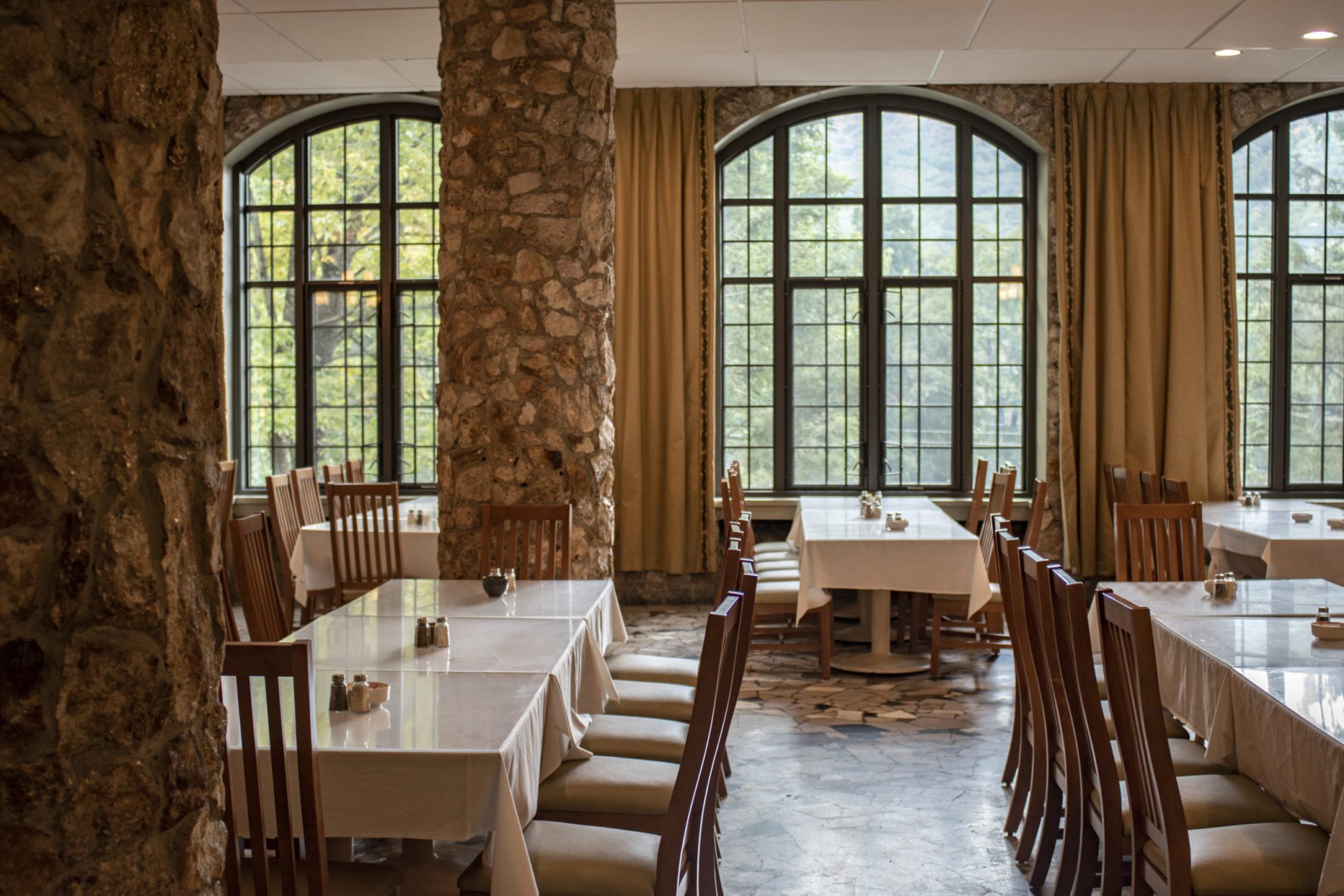 Dietary Restrictions
​Dietary Restrictions Our kitchen routinely handles peanuts, tree nuts, shellfish, seafood, wheat flour, dairy, onions, garlic, and other potential allergens. While we follow all NC Environmental Health Department guidelines for proper food handling and preparation, we are not an allergen free kitchen.
We strive to accommodate special requests/dietary restrictions but are limited in our offerings. Extremely restrictive diets, outside of vegetarian, vegan, and gluten-free, may be challenging. Those with other dietary restriction should consider bringing supplementary foods such as snacks, cereals, breads, and salad dressings. Or your own portioned, ready to microwave meals.
Assembly Inn rooms are not equipped with refrigerators, you may request one and we will do our best to fulfill your request.
We encourage guests to contact the kitchen on their arrival, to go over specific needs during their stay. Please note that if you have a special diet (vegetarian, vegan, and gluten-free) you may be instructed to retrieve your meals directly from the kitchen. This is to ensure we have enough food on hand to meet your needs.
Special diet requests should be sent 30 days prior to arrival. Contact our director of food service, Jen Smith, at jennifers@montreat.org. Special diet requests not received 30 days before arrival may not be accommodated.
Important Allergy/Intolerance Disclaimer: Montreat Conference Center food service department makes every attempt to identify ingredients that may cause allergic reactions for guests with food allergies. Along with employee training, our food service team labels items that contain the big 8 FDA allergens (milk, eggs, fish, shellfish, tree nuts, peanuts, and soybeans); however, there is always a risk of contamination. There is also a possibility that manufacturers of the commercial foods we use could change the formulation at any time, without notice. Guests concerned with food allergies need to be aware of this risk. Guests with food allergies or other food intolerance should consult a chef for specific ingredient questions. Montreat Conference Center will not assume liability for adverse reactions to foods consumed, or items one may come in contact with while eating in the Galax Dining Room, food/beverage breaks or at events catered by the Assembly Inn kitchen.