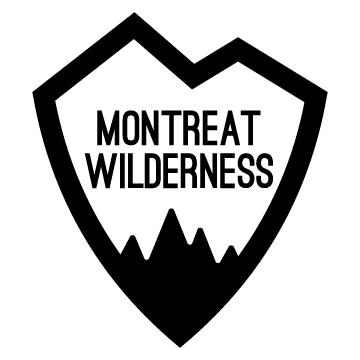 Montreat is committed to an enriching wilderness experience for all. Between peaceful picnic areas, an educational Nature Center, guided hikes and more, there's something in the outdoors for all who visit.
In 2004, Montreat Conference Center placed approximately 2,460 acres of pristine wilderness under a conservation easement. This land is now permanently protected from development and is known as the Montreat Wilderness. The Montreat Wilderness joins local mountain preserves and several thousand acres of private land in preserving the wildness and unique ecology of the entire region. By protecting this land we think of the many generations to come who will have the gift of experiencing Montreat's nature, unperturbed by our changing world.
To help protect this land, and the entire 4,000 acre valley, we've teamed up with neighboring organizations to care for our wilderness. The Montreat Landcare Committee is a community-based group of volunteers working on conservation projects to enrich the town of Montreat. To learn more about opportunities to volunteer and give, please visit Montreat Landcare's website.
Consider supporting the health and upkeep of the Wilderness area through a financial donation.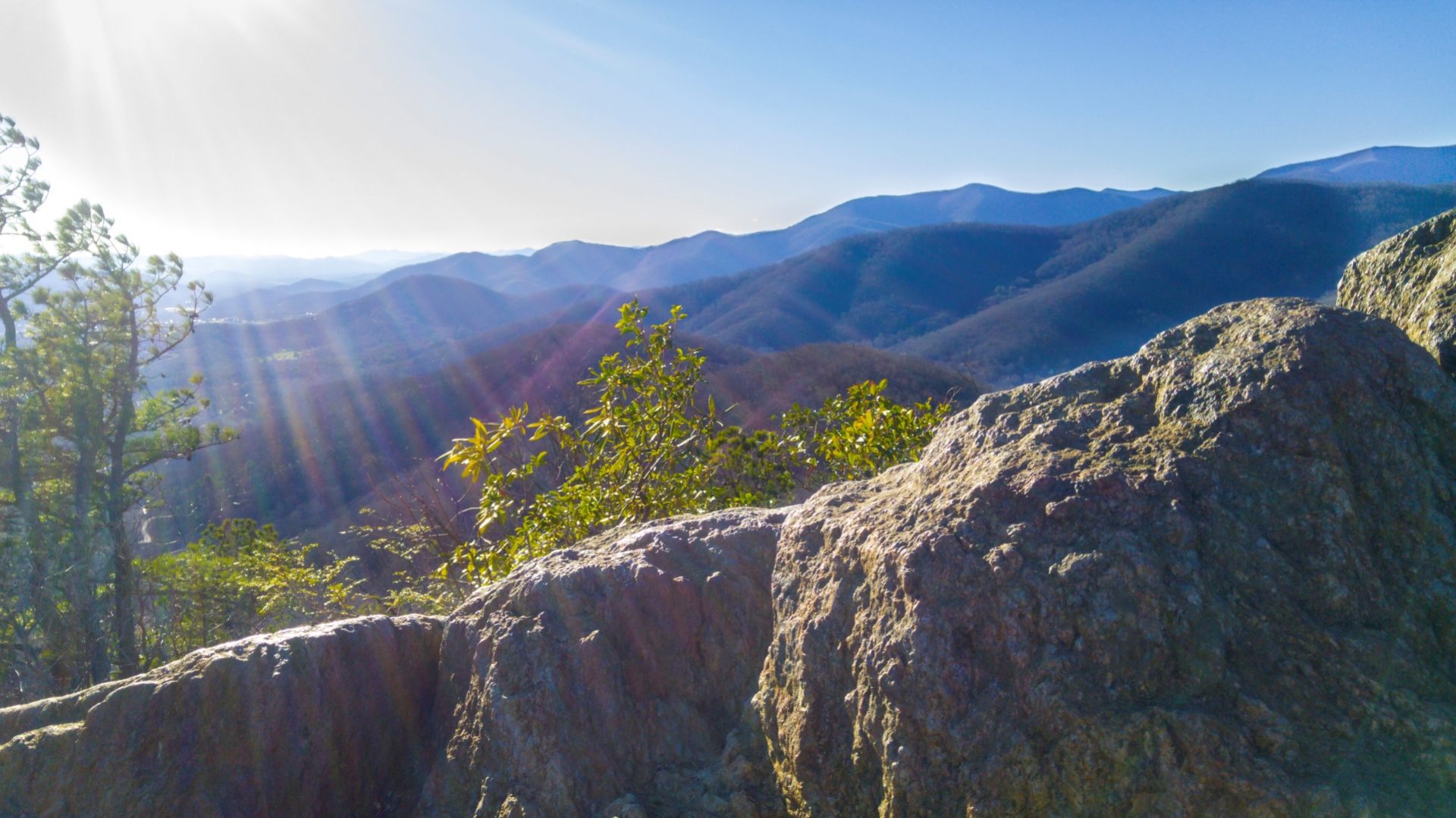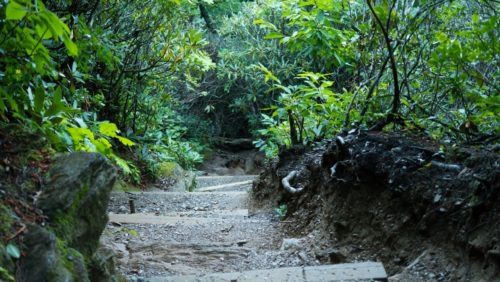 Hiking
Hiking Notices as of 11.8.2023
Bear Hunting season is open through Jan 1, 2024. Mountain bikes are prohibited on the Toll Road. All hikers/runners must wear blaze orange.
The traffic flow around Lookout trailhead has been adjusted during weekends and other busy times. See this document for official instructions.
Parking at trailheads is only allowed in designated spaces. If you park in non-designated spaces, you will be towed.
---
The Montreat Wilderness is on private property. Our trail system is protected by conservation practices and is a hike-at-your-own-risk facility. There are more than 20 trails in Montreat stretching over 40 miles, offering a variety of hikes for all skill levels.
Please download a free trail map and our Wilderness Rules & Regulations before hiking in Montreat. We encourage you to pick up a hard copy of the trail map in the Montreat Store, the front desk of Assembly Inn, or the Nature Center.
If you're hiking with a group not directly linked with Montreat Conference Center, please contact our wilderness director Jason Nanz at jasonn@montreat.org or 540.797.2334 for permission and more information on Montreat's trails.
This trail system does not receive public funding. Please consider donating to the Montreat fund to help preserve the health of our wilderness areas!
Need to report an issue with a trail? Please report it by clicking the button below.
Promotion, reviewing, and publicizing this trail system without prior approval from MRA is strictly prohibited.
Guided Hikes
Guided hikes are a great experience for family reunions, church groups, school field trips, scout trips, photography groups, and team-building. Our friendly and experienced ranger staff can lead your group to the mountaintop for morning vespers, meditation, or whatever experience you crave, offering knowledge of the trail system and nature the whole way. Guided hikes are $75 per group up to 15 people, with an additional fee of $3 per person for groups larger than 15.
In the summer months, public hikes led by ranger staff are available starting from The Nature Center every Tuesday and Thursday.
If you would like to schedule a guided hike, please contact Jason Nanz at jasonn@montreat.org or 540.797.2334.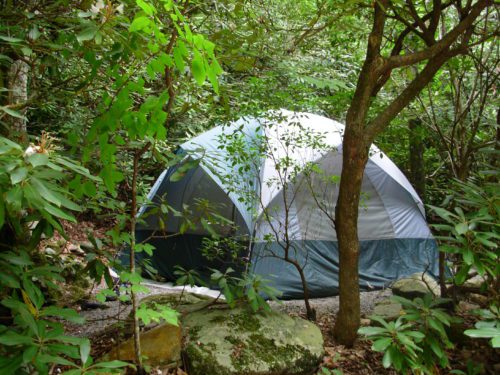 Camping
The Montreat Family Campground is comprised of 29 tent/small pop-up campsites nestled among the hardwoods, laurels, and rhododendrons that run alongside Flat Creek. Each campsite has a picnic table, fire pit, and grill. Electrical or water hookups are not available at most sites; however, water spigots are close to each campsite and two bath houses provide campers with hot water, showers, toilets, and electrical outlets. Site 5 has full RV hookups: water, electrical and sewer. Sites 11 and 14 have electricity.
Alcoholic beverages, tobacco, and firearms are prohibited in the Montreat Family Campground. Pets are allowed as long as they are kept quiet and leashed, and you must clean up after them. Questions about the Montreat Campground should be directed to the front desk of Assembly Inn at frontdesk@montreat.org or 828.419.9844.
There is a two-night minimum for ALL weekend reservations (Friday & Saturday nights). The cost per site per night is $30 for basic sites, $40 for electrical sites (sites 11 and 14), and $50 for full hookup (site 5). There is a two tent, six person maximum per site. Your stay is limited to 14 nights in a 30 day period. Upon reaching that limit a camper must vacate the campground for 7 nights before returning. Before you register online, please download campground information & guidelines.
Reservations for the 2024 campground season will open on Friday, December 8th at 10 am.
Picnic Areas
The Roddey, Jones, and Boyd picnic areas near the campground sites are open to the public and can be reserved for a nominal fee by the front desk of Assembly Inn at frontdesk@montreat.org or 828.419.9844.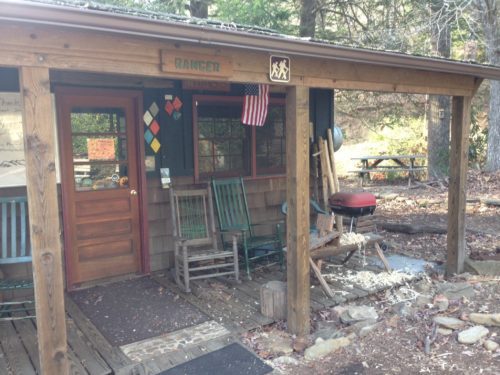 The Nature Center
The Nature Center is open during the summer months and is home to our summer wilderness ranger staff as well as some creepy crawly friends! Stop by to pick up a trail map, learn about our public hikes offered most Tuesdays and Thursdays, or even hold a snake! Located on Lookout Road next to the Moore Center.
Wilderness School
Montreat Wilderness School is a great way to take the classroom outside. Whether you're a school group, scout group, church retreat group, after school program, or family, Montreat Wilderness School fosters an experience where kids of all ages can have fun, be active, and learn about our world.
Montreat Wilderness School offers flexible programming, and we encourage teachers to work with us so we can fit your program to you. Often our activities can fulfill state learning requirements. Most standard, 3 hour sessions are $15 per student with no charge for chaperones. Additional sessions or multi-day programming are priced on a case by case basis.
Wilderness School is run by our wilderness director, Jason Nanz. Jason is a graduate of Roanoke College and an Eagle Scout. He has been involved with our wilderness program for over five years. Jason has experience in environmental education, leadership training, primitive living skills, and wilderness conservation. He is enrolled in the NC Environmental Educator Certification Program and has spent time as a field instructor at Nature's Classroom in Mentone, AL, a guest instructor at Turtle Island Preserve, and an instructor for the BSA's Junior Leadership Training Conference.
Want to chat about Montreat Wilderness School? Contact Jason at jasonn@montreat.org or 540.797.2334.