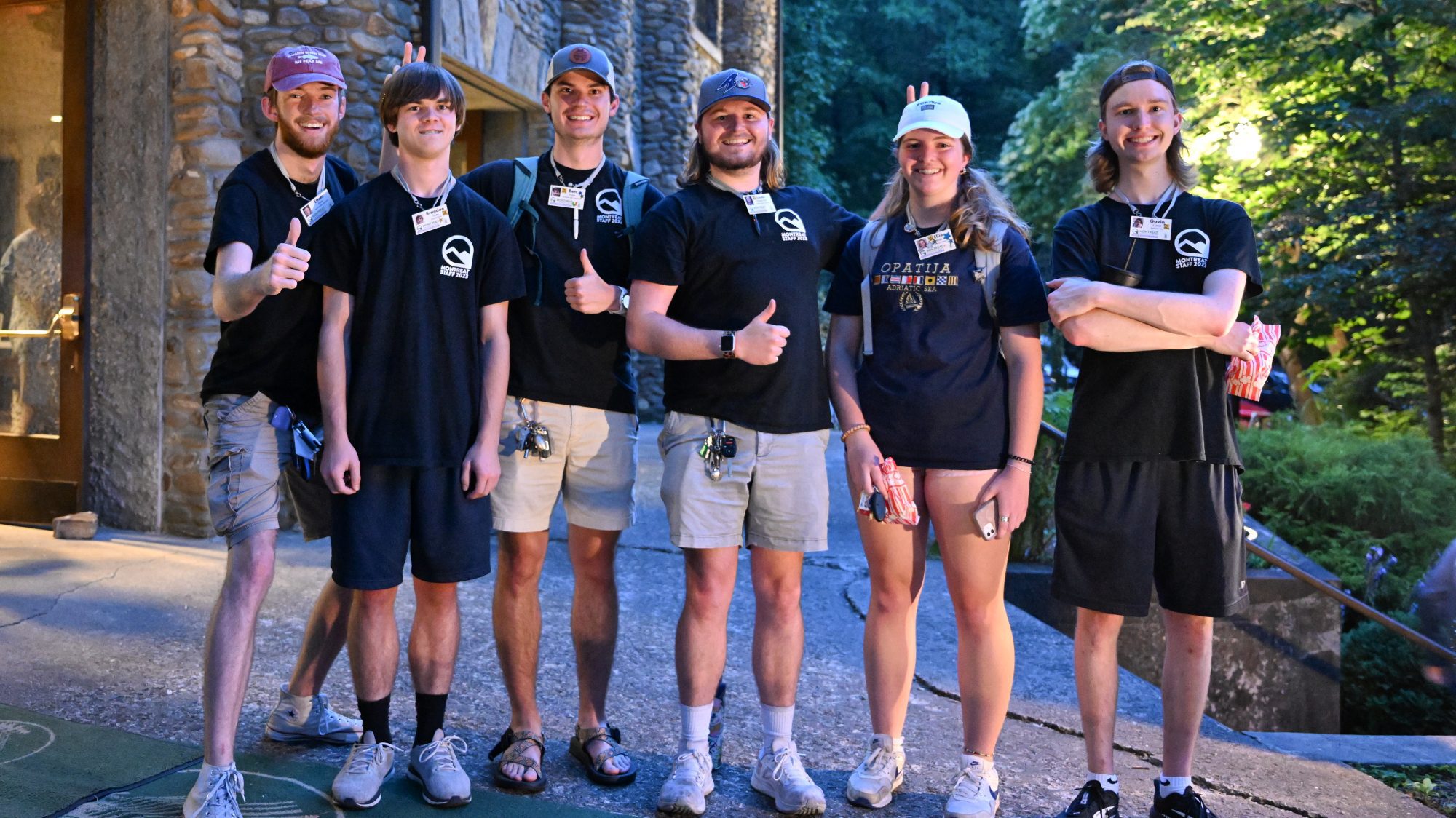 Montreat Conference Center shares in ministering to people of all ages and provides a safe place for children from six months to graduating seniors to come and spend part of their summer. In order to keep the conference center running throughout the summer months, we require the help of around 120 summer staff who like to make a difference, and work and play hard. Think you might be interested? Take a look below!
Interested in Summer Staff?
Download and read the 2024 job descriptions.
Download and read the 2024 general information sheet.
If you have never applied for Summer Staff online before, the first thing you'll have to do is create a CampBrain account. If you had an online login last year, you will need to ask for a new password but should be able to use the email you used last year. Don't worry, the website will save partially completed applications if you need to come back to it later.
---
Summer Staff Information
Sign up to learn more about Summer Staff and get reminders when applications open.
---
---
Frequently Asked Questions
Several entities in the valley use the name Montreat, and there are some distinct differences between the three largest institutions.
We are Montreat Conference Center. You may sometimes hear of us as the "Mountain Retreat Association," our corporate/legal name (and the origin of the word "Montreat.") Most people simply refer to us as Montreat.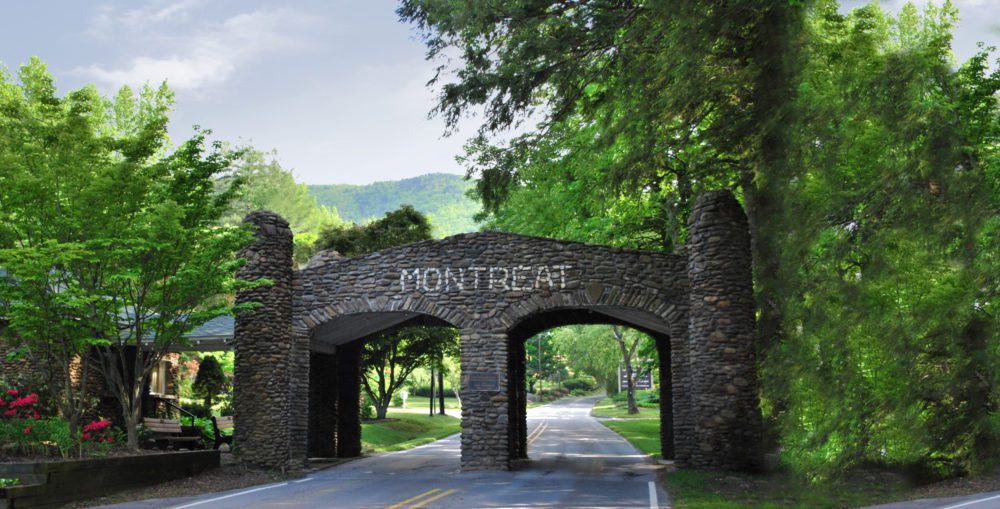 Montreat College is a private Christian college located in the town of Montreat. The college separated from Mountain Retreat Association and became a stand-alone institution in 1974. Today, Montreat College is an entirely distinct institution. The college and conference center have been separately governed for more than 40 years.
Montreat is also a town. The North Carolina General Assembly established the Town of Montreat, North Carolina, as a township in 1967 and Mountain Retreat Association gave up its municipal authority at that time. The Town has a mayor, a board of commissioners, and a staff responsible for the provision of essential services in Montreat, including water and sewer, roads, and public safety.
In addition to the recreation opportunities within Montreat, we are only five minutes away from the town of Black Mountain, which offers restaurants, coffee shops, live music, unique shops, grocery stores, a public library, and an arts center. We are within 20 miles of the
 Blue Ridge Parkway, which offers scenic drives and visits to local attractions such as the Folk Art Center and beautiful campgrounds and hiking trails. The city of Asheville is 18 miles from Montreat and provides opportunities for unique shopping and dining, museums, movie theaters, malls, bookstores, live music, summer festivals, and more.
We hire approximately 120 summer staff in a normal year. Most of these individuals are college-age (at least one year out of high school). We do hire a few adults who live in the area for some of our positions. Many of our staff come from the south east, but we frequently have representation from all areas of the country, and sometimes from out of the country.
Summer Staff work an average of 40 hours a week. The times may vary depending on the job and the needs of the conference in session. As indicated on the application, some positions may require more than 40 hours of work during some weeks.
Some departments work on a Monday to Friday regular business day schedule. These include: Clubs Counselors, Child Care Assistants, and Office Assistants. Weekends are generally free for these departments. There are some times in the summer when a conference schedule requires staff to work outside of these times. Other departments have work that requires someone to be on duty during the week as well as weekends, including evenings. Schedules for individuals in these departments may vary from week to week, with morning/afternoon shifts or afternoon/evening shifts, and at least one day off each week. Positions with such schedules include: Lifeguards, Recreation Staff, Wilderness Rangers, Conference Support, Facilities Crew, Production Crew, and Retail Staff. See position descriptions in the application for more information.
July 4 is a significant holiday in Montreat with many events, including a parade, afternoon games, recreation, and an evening community square dance — all of which require significant support from our summer staff. As such, all summer staff are required to work on July 4th.
Please indicate on your application what your availability is based on the dates of employment for the position(s) you desire. We understand that school schedules often present conflicts with these dates. It is our desire to hire as many staff as possible who can be present for the entire length of their contract. However, if we choose to hire someone who needs some amount of time off, we will adjust their salary accordingly. There are a few short-term Clubs counselor positions that we hire to work during our busiest times. All other summer staff positions are employed for the entire summer. Hiring preference may be given to individuals who are available for the full time period of their contract.
If your schedule changes after you've submitted your application, please contact our offices as soon as possible with any additional time off requests.
Summer Staff may not hold more than one full-time Montreat Conference Center position and cannot do any outside work on Montreat Conference Center property. However, Summer Staff may be employed outside of scheduled working hours by organizations other than Montreat Conference Center or its user groups.
You have the option to indicate on your application whether or not you would accept another position if none of your first choices were available. If you say yes, you may be offered another position that we think may suit you. If you indicate that you would not accept another position, and we are not able to offer your first choice(s), your application will not be considered for any of our remaining positions.
While we try to fill as many of our positions as possible by early February, we often do have remaining positions to fill later into the spring. You have a better chance of getting a position you desire the earlier you apply, but applications will still be accepted throughout the spring.
Selection will take place in mid/late January.  All applications in our office by the deadline will be considered at that time. By early March, those applicants will either be sent a contract or be notified that they have not yet been selected. Any applications received after selection will be reviewed as they are received, and most applicants should hear something from Montreat within a few weeks of applying.
We require that all Summer Staff applicants be at least one year out of high school. In addition, there are minimum age requirements for some positions. Please see specific position descriptions for details.
No. Montreat Conference Center is a Presbyterian Church (U.S.A.) center, but our staff members often represent a variety of denominations and faith perspectives. The focus of our ministry is Presbyterian, and the spiritual opportunities we offer to our conferees and staff are grounded in the Reformed tradition of the Presbyterian Church (U.S.A.), but we do not require our staff or participants to be Presbyterian.
You will need references to be considered for a position. Even if you have no prior work experience, you will still need to find two individuals who can attest to your work ethic. These can be professors who have supervised a work project, a family you may have done work for (such as babysitting or lawn mowing), a volunteer coordinator for a service project, etc.
Montreat is settled in the mountains of Western North Carolina. Days in the summer can get quite hot and humid, but mornings and evenings are often cool. Afternoon thunderstorms are not uncommon.
Staff will be issued Summer Staff t-shirts that clearly identify them as staff and should be worn on the first day that a conference checks-in. Some work areas receive more t-shirts and are required to wear one whenever they are on duty. Most departments include work that is active, so staff should dress appropriately. Details on dress guidelines will be made available to hired staff later in the spring.
Orientation is an opportunity to get to know your fellow Summer Staff, get required training, and learn what is involved in your individual department for the summer. We will do some group building activities, review staff policies, take CPR/First Aid (if you do not have current certifications), do lodge orientations (for those staying in our housing), and work with your departmental staff to get more specific job training and prepare your site for the summer. We also offer optional evening recreation opportunities in Montreat and Black Mountain during the orientation week. Orientation happens at the beginning of your contract date.
Lodges
*Lodge occupancy could change depending on Covid-19 safety regulations.
Most of our summer staff are housed in any one of three lodges in Montreat. Each lodge is an older house with lots of character and good front porches. Rooms sleep anywhere from two to five people, depending on the lodge. Each room has a bed for each individual and closet or dresser space. Most lodges have hall baths. Each lodge has a community living room space with couches, tables, and chairs, as well as a fully-equipped community kitchen. Each lodge is assigned a resident advisor to oversee community life in the lodge. Consideration will be given to need.
Sylvan Lodge (sleeps 24 people). Rooms are shared by up to five people.
Balsam Lodge (sleeps 24 people). Rooms are shared by up to four people.
Lookout Lodge (sleeps 37 people). Rooms are shared by up to four people.
Cost
Those in Montreat Conference Center housing will be charged $2.50/per night, which is automatically deducted from each paycheck.
Resident Ages
Our lodges are reserved for our younger adult staff without spouses or children, so the general age range is 18-22. Note that lodges are also sometimes co-ed.
Curfews
There is no curfew, but there is a town-wide noise ordinance that goes into effect each night at 11:00pm that prohibits any loud noise after this time.
Furniture
The lodges provide the basic furnishings needed, and there is not much room for more. We discourage anyone from bringing extra furniture.
Laundry
Each of the staff lodges have washer and dryer facilities that are available at no cost. There are also coin-operated laundromats in Black Mountain.
Semi-Private/Private Housing
We try to obtain semi-private housing (apartments, shared rental houses) for some of our upper-level Summer Staff. The availability is very limited and is sometimes located outside of Montreat. Finding your own private housing is a possibility, but most find it expensive and scarce during the summer.
Meals
Staff are responsible for shopping for and preparing their own meals. There are kitchen facilities in each lodge equipped with pots/pans, plates, cups, utensils, microwave, many refrigerators, stoves, ovens, dishwashers, and shelves for food storage. There will be opportunities throughout the summer for staff-only meals provided by the ministry team as well as community meals in the lodges. Meals can also be purchased with staff discount in the Assembly Inn's Galax Dining Room.
Pets
Sorry, pets are not allowed in the lodges.
Cars
You may bring a car, but it is not necessary for most Summer Staff positions. Most places you would need to get to within Montreat are within reasonable walking distance. There are other individuals with cars who could help transport you into town if needed. If you do bring your car, there is no registration fee.
Some summer staff positions may be eligible for college or graduate school credit. To find out if a position you are applying for qualifies, contact the appropriate department at your school. We will do whatever we can to help work with you and your school to make the credit possible.
We encourage staff meetings and leadership development. Summer Staff may be flexi-staffed from one area to another on occasion. The nature of the Conference Center is that it is impossible to know ahead of time exactly how many people will participate in the conferences and various activities. Conference sessions may necessitate a change of work hours and stations and may include evenings or weekends for some who are not normally scheduled at those times. In most cases, we will be able to anticipate flexi-staffing from week to week and avoid overloading individuals.
See Position Descriptions (listed in the Summer Staff application) for wage information.
The typical work week averages 40 hours per week, although some positions will require more than 40 hours a week during certain weeks. Staff who return for consecutive summers and whose current position is not in a higher bracket receive a $50 annual salary bonus. Summer staff participate in the recreation activities (tennis, boats, some staff craft privileges, and swimming) at reduced rates or free of charge.
A collegiate ministry is provided for Summer Staff by seminary students. Summer Staff will have an opportunity for Bible study, group discussions, and various programs and activities for fellowship and spiritual growth. Summer Staff are invited and encouraged to participate in the Montreat Conference Center Sunday worship services in Anderson Auditorium. Opportunities are available for participating in the leadership of these services.
Summer staff are expected to be responsible on the job and on Montreat grounds, and to represent Montreat well off the premises. All staff members are expected to behave in ways compatible with the Christian faith and with the customs, policies, and ideals of Montreat. As a key part of our commitment to intentional hospitality, we will not tolerate discrimination on our campus against any child of God, including discrimination based on race, ethnicity, ability, gender identity, gender expression, or sexual orientation.
In accepting a position, staff agree to:
Participate in the ministry of Montreat Conference Center and abide by its policies.
Demonstrate Christian actions and behaviors that are a model for children, young people, and conferees.
Refrain from all forms of discrimination and harassment, including discrimination and harassment based on race, ethnicity, ability, gender identity and expression, or sexual orientation.
Be a positive contributor to Montreat Summer Staff community life.
Accept extensions of duty, other positions, and responsibilities assigned.
Be positive role models to children, families, and guests with regard to behavior and appearance: no excessive facial jewelry or body piercings, or inappropriate tattoos. Staff should observe appropriate dress based upon work area.
Refrain from smoking on the job, or in public places where others may be influenced, especially children and youth (MRA buildings are smoke-free).
If living in Montreat Conference Center staff housing, abide by lodge rules and be responsible to the Resident Advisors.
Abide by COVID-19 safety precautions and regulations as required by the Conference Center, which may include but are not limited to:

Taking health screenings and not reporting to work if sick.
Limiting my interactions outside of work to those that are necessary and safe.
Wearing protective gear, including masks, while at work.

Abide by N.C. laws concerning the use, possession, and sale of alcohol on and off Montreat Conference Center grounds. The use of alcoholic beverages by Summer Staff in any Montreat Conference Center-owned and operated building or grounds (regardless of person's age) is prohibited.
Abide by Federal and state laws concerning the use, possession, or sale of illegal drugs. Unauthorized use, possession or sale of controlled substances is prohibited both on and off Montreat grounds. A violation of this rule will result in immediate dismissal.
Abide by all Federal and State Laws
Montreat Conference Center has the right to terminate the employment of any person who fails to abide by these conditions, who performs unsatisfactorily in the job, or whose behavior is considered detrimental to the best interests of the conference center.
If you like to sing, you've come to the right place! The Montreat Summer Singers is a choral ensemble of selected summer staffers who enjoy rehearsing and singing at a high level of musicianship and in a wide range of music. In the past, we have sung choral classics, spirituals, gospel songs, global music, and even the Beatles.