One morning in early June while driving down Assembly Drive, I slowed as I approached Pratt Park on the right, eyeing a car parked just off the pavement not where a car usually parks. As I passed, I saw two volunteers knee-deep in a garden area outfitted with gloves, tools, and plenty of sun protection. I knew immediately that the John Collins Society was again hard at work attending to its duties.
For those unfamiliar with its existence, the John Collins Society was established to honor and foster our appreciation for the reverend John Collins, justifiably considered the founder of Montreat. According to the Presbyterian Heritage Center website, "Apparently at the suggestion of Evangelist Weston R. Gales, John C. Collins began looking to create a summer religious retreat community in western North Carolina in 1895 or 1896." The Mountain Retreat Association (MRA) was subsequently formed in March of 1897, with the first programs held in the summer of that year.
Mr. Collins served as the MRA's first president and truly lived a life worth remembering. Secretary and executive of the International Christian Workers Association for more than twenty years, Collins was an active leader in various Christian movements in the late 19th and early 20th century. You can read more about Mr. Collins here.
Why the need for a John Collins Society? Well, as member Henry Wilde explained to me a couple of years ago, "We feel like, when we take note of our history here, John Collins is often overlooked and not given his due." One reason that might be so: Montreat's history-telling is usually dominated by its association with the Presbyterian Church and by its geographic location in the south. Reverend Collins, however, was neither Presbyterian nor a southerner; in fact, he was a Yale-educated, Congregationalist pastor living in New Haven at the time. That's right: as Mark Twain might have phrased it, Montreat was founded by a Connecticut Yankee.
The MRA does maintain a monument to Mr. Collins. The rock in the photo below remains on Assembly Drive and still bears the founder's name. Sometimes the site needs extra care and so the John Collins Society steps forward. That's what Dr. Wilde and fellow member Bill Straughan were doing on that warm June morning: pruning, weeding, and cleaning to ensure that passersby could hold the memory of Reverend Collins in proper regard. (For the record, both men insist that the society's membership roll is a closely guarded secret. As Mr. Straughan solemnly reports, "Henry and I are the only public members.")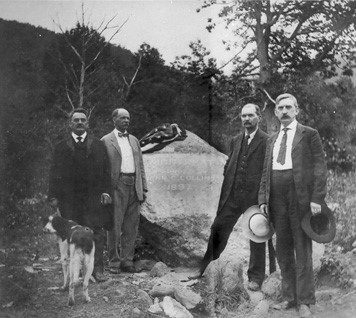 As we gather this week and commemorate the history of our country and this special place, say a word of thanks for John Collins' inspiration, hard work, and forbearance. Just as importantly, perhaps, give a word of thanks for the many – celebrated and uncelebrated – who help make Montreat the beautiful, welcoming place that we aspire for it to be each and every day. Happy Fourth everyone!  
Finally, as some of you know, I am serving on a Town Committee to update Montreat's Comprehensive Plan. To support our work, your input is needed on important subjects regarding the future of Montreat. Please take a few minutes now to complete this short survey. CLICK HERE to take the survey.
---

Richard DuBose
President, Montreat Conference Center